Shimano Butterfly Wing-Fall Jigs
California Proposition 65 Warning
WARNING: These products may contain chemicals known to the State of California to cause cancer, birth defects, or other reproductive harm.
For more information visit: www.P65Warnings.ca.gov
Shimano's new Butterfly Wing-Fall is the perfect addition to an angler's arsenal of jigs for both conventional speed jigging and slow-pitch jigging. This dynamic jig has several falling actions — wide roll, cradle swing and back slide — designed to mimic an injured or dying baitfish that is sure to trigger a feeding response resulting in an aggressive bite. The Butterfly Wing-Fall features a Kyorin finish to give the lure a lifelike appearance and is offered in six colors: Anchovy, Blue Glow, Blue Pink, Blue Sardine, Chartreuse White and Pink Silver. Available in six different sizes from 80g to 250g, the Butterfly Wing-Fall is built with through wire construction to increase the lure's overall strength and ensure you will never lose a fish due to lure failure. Drop one down and get ready to hold on, game fish won't be able to resist the Butterfly Wing-Fall.
Features
Through-Wire Construction
Kyorin Finish for a Lifelike Appearance
Available in 6 Colors
Available in 6 Sizes
18 Models Available
Model
Style
Color
Length
Weight
Stock
Price
Qty
BF100WFAN
AN
Anchovy
3 3/4"
3 1/2oz

In Stock:

5+

$12.97

BF100WFBG
BG
Blue Glow
3 3/4"
3 1/2oz

In Stock:

5+

$12.97

BF100WFBP
BP
Blue Pink
3 3/4"
3 1/2oz

In Stock:

5+

$12.97

BF100WFBS
BS
Blue Sardine
3 3/4"
3 1/2oz

In Stock:

5+

$12.97

BF100WFCW
CW
Chartreuse White
3 3/4"
3 1/2oz

In Stock:

5+

$12.97

BF100WFPS
PS
Pink Silver
3 3/4"
3 1/2oz

Low Stock:

<5

$12.97

BF130WFAN
AN
Anchovy
4 1/8"
4 5/8oz

In Stock:

5+

$15.97

BF130WFBG
BG
Blue Glow
4 1/8"
4 5/8oz

In Stock:

5+

$15.97

BF130WFBP
BP
Blue Pink
4 1/8"
4 5/8oz

In Stock:

5+

$15.97

BF130WFBS
BS
Blue Sardine
4 1/8"
4 5/8oz

In Stock:

5+

$15.97

BF130WFCW
CW
Chartreuse White
4 1/8"
4 5/8oz

In Stock:

5+

$15.97

BF130WFPS
PS
Pink Silver
4 1/8"
4 5/8oz

In Stock:

5+

$15.97

BF160WFAN
AN
Anchovy
4 3/8"
5 5/8oz

In Stock:

5+

$15.97

BF160WFBG
BG
Blue Glow
4 3/8"
5 5/8oz

In Stock:

5+

$15.97

BF160WFBP
BP
Blue Pink
4 3/8"
5 5/8oz

Low Stock:

<5

$15.97

BF160WFBS
BS
Blue Sardine
4 3/8"
5 5/8oz

In Stock:

5+

$15.97

BF160WFPS
PS
Pink Silver
4 3/8"
5 5/8oz

Low Stock:

<5

$15.97

BF200WFAN
AN
Anchovy
4 5/8"
7oz

In Stock:

5+

$18.97
Other Shimano Baits Available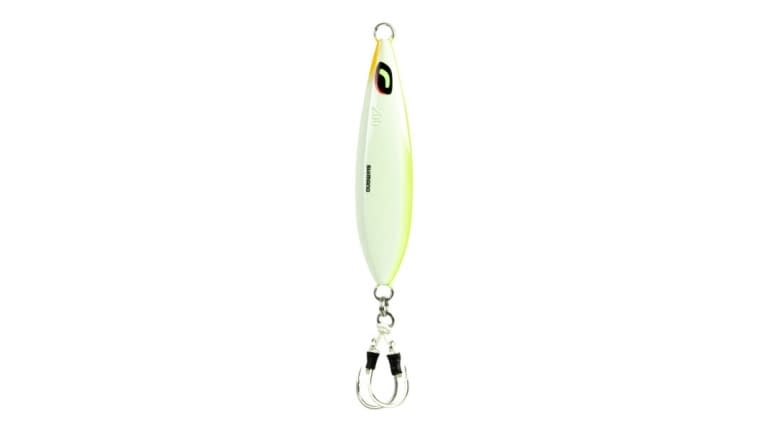 Scroll Image
Error
X items added to your cart