Smokehouse Big Chief Front Load
California Proposition 65 Warning
WARNING: These products may contain chemicals known to the State of California to cause cancer, birth defects, or other reproductive harm.
For more information visit: www.P65Warnings.ca.gov
You know what's frustrating when it comes to smoking a whole batch of freshly caught salmon, or jerky, sausage, ribs or anything else for that matter? It's when your smoker starts acting crazy with fluctuating temperatures, or when the wood stops smoking because of those fluctuating temperatures, or trying to deal with Bluetooth wi-fi techy something or other to control your smoker. All those issues are non-existent when it comes to the Big Chief smoker, and have been since the 1960's when it was first introduced. The Big Chief maintains a consistent low temperature setting (165 degrees Fahrenheit) so you know that you're smoking food at the low temperature you need... and not cooking and ruining your expensive and well earned batch of salmon or sausage.

Smoking is made simple with the Big Chief as all you have to do is plug it in to a standard household outlet. Place your food (after brining or preparation) on one of the five racks that sit over top of the drip pan... the smoker's capacity is a whopping 50 pounds of meat or fish! Then close the door. The Big Chief's wood chip pan is removable without ever opening the door, so you're never letting the heat out and dealing with those pesky fluctuating temperatures. Just choose your favorite flavor of Smokehouse Wood Chips and you're guaranteed to be getting an amazing amount of smoke... even with the smoker temperature at just 165 degrees! Now not every smoker can do this so you have to appreciate a low smoking temperature with an abundant amount of smoke. Now's the time to put your feet up and admire what your doing with a cold, frosty beverage! Before you know it, you'll be the most popular person in the neighborhood with the best tasting food to share!

If you're wondering what all you can smoke in a Big Chief, well here is a short list of what you can do because the possibilities are endless... salmon, trout, other fish, jerky, sausage, turkey, bacon, hams, steaks, ribs, pork butts, brisket, fruits, nuts, and cheeses. The Big Chief has even been on national TV for smoking beer! Just remember when smoking those large meats like a pork butt or a brisket, you'll smoke it thoroughly in the Big Chief and then finish the meat off in an oven or on a grill to get to that target internal temperature... everything else you can continue to dehydrate in the Big Chief until you reach the flavor you want.

The Big Chief Front Load Electric Smoker is our most popular model. Here's a quick list of features and specs on the smoker:

The Big Chief Front Load Smoker includes... Smoker, of course, with 5 Easy-slide Chrome plated grills, electric cord, drip pan, and wood flavor pan,
Free bag of Smokehouse Alder Wood Chips, and
Free Recipe Booklet and complete operating instructions.
Smoker Size: 24-1/2" H x 18" W x 12" D
Capacity: Smokes up to 50 pounds of meat or fish.
Ventilation: Engineered for premium smoke ventilation for premium smoke circulation and proper dehydration.
Safety: Smoker comes with UL and CUL certifications.
Consistent low temperature setting using a 120V, 450W heating element for approximately 165 F.
Easy to use... plugs into standard household outlet and has easy to use wood chip flavor pan.
Construction: Durable, embossed aluminum construction that is also lightweight, easy to transport and easy to store.
2 Year Warranty: Guaranteed to be free from manufacturing defects for a period of 2 years.

This item does not qualify for free shipping
Other Smokehouse Accessories Available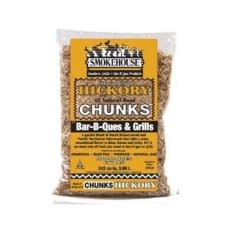 Smokehouse Wood Chunks
$4.99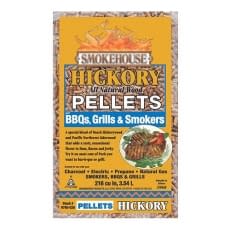 Smokehouse Wood Pellets
$6.99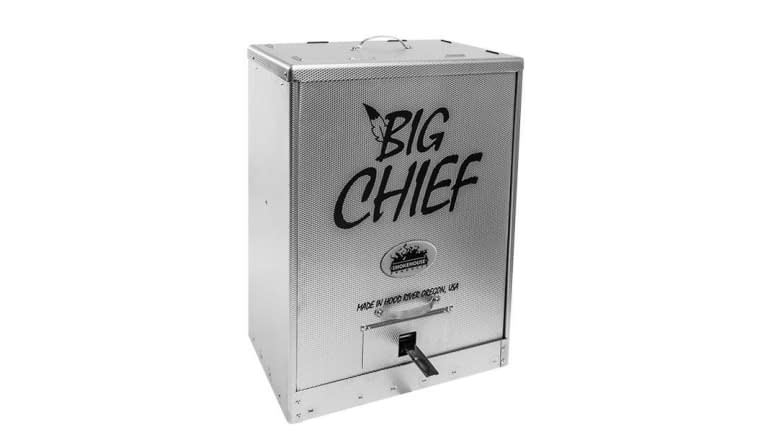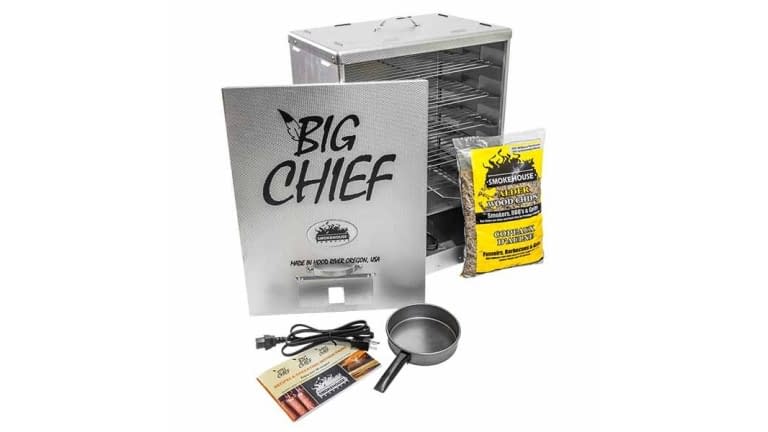 Scroll Image
Error
X items added to your cart