Roman Made Mother Swimbait
California Proposition 65 Warning
WARNING: These products may contain chemicals known to the State of California to cause cancer, birth defects, or other reproductive harm.
For more information visit: www.P65Warnings.ca.gov
The Mother: An overwhelming sense of existence and overwhelming ability to catch fish. The Non-standard 30cm 300g lip-less that inevitably will drag out those monsters. It starts from Cast, and a peculiar splashdown sound. The mother is full of confidence. It is not stale, it is Mother. The Mother has the power to draw out those big basses that have not been seen. This never experienced before, every time Mother is thrown out it will happen to you. of course you know, it can easily meet the super-big bass. There is the world that can now be seen because of Mother.  Neither the experience nor the established theory apply. We are learning from a completely new thing now. Roman Made is seriously opposite to the fish with the conviction in a dreamlike reality. Mother is Roman Made's style, and the lure that led the dream to the reality.
How To Use
– SLOW RETRIEVE
The meander action is drawn right and left, and coquettish movement of the medium bait fish that did in a relaxed manner is produced. Wide depth can be approached by the rod work and the line control.
– FAST RETRIEVE
The maximum feature of fast retrieve is a voluntary motion of the lure. The mother's weight setting that hitting lure's side is done from the meander action for the lure in an over tension the retrieve or an irregular of the water current. Therefore, it becomes an element to cause the effect of flushing and the reaction byte.
– Fall & Jerk
It is made to fall freely after Cast, it is made to take up an extra part of the line after the bottom of arrival, to flap the rod continuously 2 or 3 times, and to fall freely again, the same operation is repeated. The feature of this action causes fish's byte by quietness (free-fall) and the movement (jerk). Please do this method with great care so that danger to which the lure is caught in the place where a lot of obstacles exist in water.
Length: 30 Cm 
Weight: 300g 
Hooks come un-attached, included in box. 
1 Model Available
| Model | Color | Stock | Price | Qty |
| --- | --- | --- | --- | --- |
| RMM-537 | Rainbow Trout | Out of Stock | $499.99 | |
Other Roman Made NEW Available
Other Roman Made Baits Available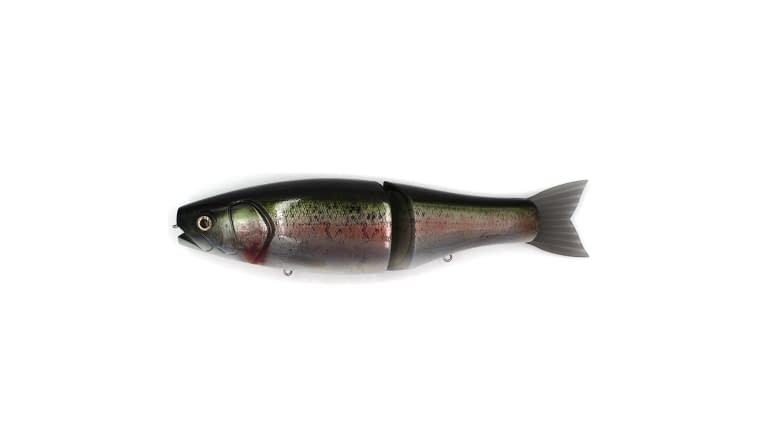 Scroll Image