P-Line CX Premium
California Proposition 65 Warning
WARNING: These products may contain chemicals known to the State of California to cause cancer, birth defects, or other reproductive harm.
For more information visit: www.P65Warnings.ca.gov
P-Line's CX Premium Fluorocarbon Coated Line is one of the most innovative lines available, combining copolymer and fluorocarbon technologies. With low memory and improved limpness, CX Premium eliminates the line nightmares of a spinning reel, and improves casting distance with a baitcasting reel. The fluorocarbon-silicone coating virtually eliminates water absorption, so cold water and weather have little effect on line performance. With as much as 30% less stretch than average lines, it has increased sensitivity to detect and react to even the most subtle strikes.
39 Models Available
Model
Style
Color
Length
Pound Test
Stock
Price
Qty
CXBSFL-08
Clear Fluorescent
Clear
3000yds
8

Low Stock:

<5
$36.99
CXBSMG-2
Moss Green
Moss Green
3000yds
2
Out of Stock
$37.99
CXBSMG-4
Moss Green
Moss Green
3000yds
4
Out of Stock
$37.99
CXBSMG-6
Moss Green
Moss Green
3000yds
6
Out of Stock
$37.99
CXBSMG-8
Moss Green
Moss Green
3000yds
8

Low Stock:

<5
$42.99
CXBSMG-10
Moss Green
Moss Green
3000yds
10

Low Stock:

<5
$46.99
CXBSMG-12
Moss Green
Moss Green
3000yds
12
Out of Stock
$48.99
CXBSMG-15
Moss Green
Moss Green
3000yds
15
Out of Stock
$55.99
CXBSMG-20
Moss Green
Moss Green
3000yds
20
Out of Stock
$63.99
CXBSMG-25
Moss Green
Moss Green
3000yds
25
Out of Stock
$73.99
CXBSMG-30
Moss Green
Moss Green
3000yds
30

Low Stock:

<5
$75.99
CXFFG-4
Flo Green
Flo Green
300yds
4

In Stock:

5+
$7.49
CXFFG-6
Flo Green
Flo Green
300yds
6

In Stock:

5+
$7.49
CXFFG-8
Flo Green
Flo Green
300yds
8

In Stock:

5+
$7.49
CXFFG-10
Flo Green
Flo Green
300yds
10

In Stock:

5+
$7.99
CXFFG-12
Flo Green
Flo Green
300yds
12

In Stock:

5+
$7.99
CXFFG-15
Flo Green
Flo Green
300yds
15

In Stock:

5+
$7.99
CXFFG-20
Flo Green
Flo Green
300yds
20

In Stock:

5+
$8.99
CXFFG-25
Flo Green
Flo Green
300yds
25

Low Stock:

<5
$8.99
CXFFG-30
Flo Green
Flo Green
260yds
30

Low Stock:

<5
$8.99
CXFFL-06
Clear Fluorescent
Clear Fluorescent
300yds
6

In Stock:

5+
$7.49
CXFFL-08
Clear Fluorescent
Clear Fluorescent
300yds
8
Out of Stock
$7.49
CXFFL-2
Clear Fluorescent
Clear Fluorescent
300yds
2

In Stock:

5+
$6.99
CXFFL-10
Clear Fluorescent
Clear Fluorescent
300yds
10

In Stock:

5+
$7.99
CXFFL-12
Clear Fluorescent
Clear Fluorescent
300yds
12

In Stock:

5+
$7.99
CXFFL-15
Clear Fluorescent
Clear Fluorescent
300yds
15

In Stock:

5+
$7.99
CXFFL-20
Clear Fluorescent
Clear Fluorescent
300yds
20

In Stock:

5+
$8.99
CXFFL-25
Clear Fluorescent
Clear Fluorescent
300yds
25
Out of Stock
$8.99
CXFFL-30
Clear Fluorescent
Clear Fluorescent
260yds
30
Out of Stock
$8.99
CXFMG-2
Moss Green
Moss Green
300yds
2

In Stock:

5+
$6.99
CXFMG-4
Moss Green
Moss Green
300yds
4

In Stock:

5+
$6.99
CXFMG-6
Moss Green
Moss Green
300yds
6

In Stock:

5+
$6.99
CXFMG-8
Moss Green
Moss Green
300yds
8

In Stock:

5+
$7.99
CXFMG-10
Moss Green
Moss Green
300yds
10

In Stock:

5+
$7.99
CXFMG-12
Moss Green
Moss Green
300yds
12

In Stock:

5+
$7.99
CXFMG-15
Moss Green
Moss Green
300yds
15

In Stock:

5+
$7.99
CXFMG-20
Moss Green
Moss Green
300yds
20

In Stock:

5+
$8.99
CXFMG-25
Moss Green
Moss Green
300yds
25

In Stock:

5+
$8.99
CXFMG-30
Moss Green
Moss Green
260yds
30

In Stock:

5+
$8.99
Other P-Line Terminal Tackle Available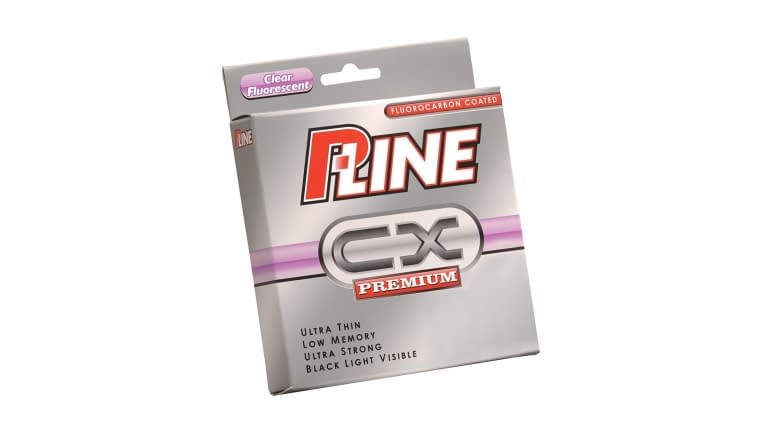 Scroll Image