Start on any high mountain lake. Follow the water through countless rivers that increase in size before finally reaching ocean estuaries. Continue to the beach, pass the near shore structure, and head into the blue water. At any point in the journey you can catch fish on a Krocodile, whether the fish are trout or bass, salmon or stripers, bluefish or calicos, halibut or tuna. It's been that way for generations. The Krocodile operates on a simple premise: big fish eat smaller fish. Year in and year out, the Krocodile proves itself to be the most productive spoon ever built. It can be cast and retrieved, jigged over structure, or trolled. Choose the size that best mirrors available forage, then pick the perfect finish from an extensive palette.
FEATURES
Versatile, multi-species minnow design
Heavy-duty construction
Corrosion-resistant finishes
3/4 oz. and 1 oz. sizes are rigged with welded rings
Other Luhr-Jensen Saltwater Available
Other Luhr-Jensen Species Available
Luhr Jensen Kwikfish
$7.99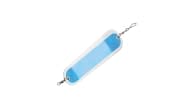 Luhr-Jensen Coyote 3 Rotating Flasher
$13.99 - $16.00
Scroll Image
Error
added to your cart
Total items in cart:
Free Shipping
With $50.00 minimum purchase.