Fun Fishing DVD Series
California Proposition 65 Warning
WARNING: These products may contain chemicals known to the State of California to cause cancer, birth defects, or other reproductive harm.
For more information visit: www.P65Warnings.ca.gov
1. Big Bass Fishing
Monster Bass Learn how to use swimbaits and wake baits in California lakes to catch monster bass. This video explains how to use equipment, baits, and techniques needed to catch these big fish. Flipping and punching Learn how to pitch and flip out. See a quick presentation on how to catch big bass. See where to make those pitches and how to work the bait for even bigger bass. The tackle, technique, and baits are all shown in this video.
2. Trolling For Stripers & Halibut
Trolling for Stripers with Mark Wilson Both shallow water (7-9 feet) and deep water (12-24 feet) trolling for striped bass in rivers and sloughs. Learn about the equipment, trolling speed and rigging tackle for hard striking stripers. Halibut Fishing in the San Francisco Bay with Jay Lopes Trolling with bait and hoochies in San Francisco Bay. Find fish using structure, water depth, tides, and boat speed. Tackle and techniques for a successful halibut trip.
3. Fall-Winter Fishing
Fall stripers using Fishtraps and Rat-L-Traps Find schools of stripers using tides and currents. See the correct tackle and technique used to catch these giant stripers. Red ear perch Fun for all especially children. Fish year round with ultra light tackle for these good eating, hard fighting fish.
4. Spring Fishing
Black Bass on spinnerbaits Learn how to catch bass on spinnerbaits. Find out how to fine tune a spinnerbait, find structure and cover where the bass hide. Also using tides to find the fish. Striped Bass using swimbaits Techniques using swimbaits for striped bass. Tides, structure, colors, finding fish, understand the rod and reel, line type for presentation to catch more fish and bigger fish.
5. Lake Fishing
Kokanee Troll for kokanee, learn about the tackle, baits, and techniques used to catch this land locked sockeye salmon. Halibut Fishing in the San Francisco Bay with Jay Lopes Catching black and spotted bass using both plastics. Learn about changing baits for the underwater structure, and the equipment and techniques used to catch bass.
6. Bass Fishing Techniques
Bobber bass fishing Clear Lake, live bait fishing with shiners, the tackle needed, how to rig live bait, places to find fish, techniques in catching bass with bobbers and shiners. Lake Hogan for small mouth bass Where to find large and small mouth bass. How to change baits while moving along shore lines. Understanding terrain and baits. Differences in rods and lines with different baits.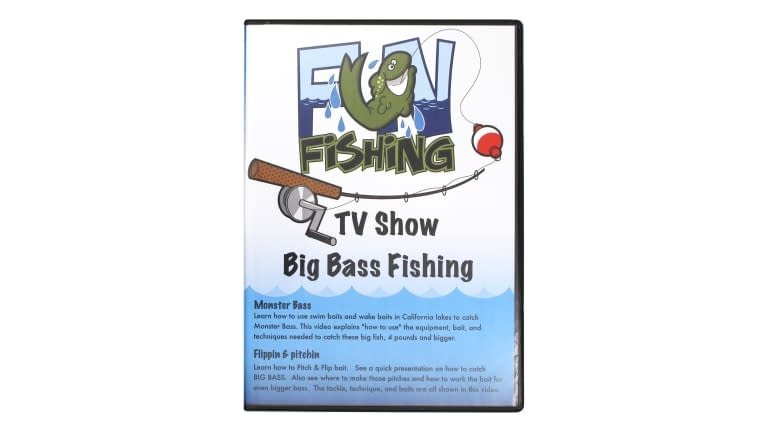 Scroll Image